Archive for October, 2011
I have had the pleasure of hearing Doron Kornbluth, author of  the newly released book, Why be Jewish, speak on several continents. Be it to seminary students in Jerusalem or a room comprised of mostly unaffiliated Persian Jews in Beverly Hills, I've always been impressed by his ability to not just captivate and inspire the audience—but to engage and empower them with something to think about as they walk home or drive off into the evening. Arguably most recognized for being the best-selling author of, Why Marry Jewish, Doron chose to tackle an even more fundamental question in his latest release.
Truth be told, this question is one that I presume any good Jew ponders at least once or twice throughout their lifetime!
Frankly, in our contemporary times, a question such as: why be Jewish? is more important to address and truly understand—before one even thinks of the subject of marriage! That said, as a husband, father, religious Jew, and Orthodox Rabbi, I was curious to see if this book was going to speak to me as well.
After reading this book cover to cover, I can report that Why be Jewish exceeded my expectations!
I credit this to the fact that Doron opted not to write this book as he had written his other works (for a full list of his books see here). First, the entire book is written in a  format that allows the reader to flip through the book and select a chapter or section that speaks to them. Second, each chapter is written as a different narrative and allows one to hear various perspectives about the choice and way in which ones Jewish pride developed. In so doing, this allows the the reader to be exposed to a plethora of experiences from which they can relate to and grab a hold of as well! All in all, I found the writing style useful, not just because it will speak to a generation that is increasingly used to reading short blog posts and not long novels—but because if one chapter doesn't relate to the reader or their life experiences—one is assured that there will be many other stories that do resonate with their upbringing.
While I do not take the author to task about some of the people he elected to write about in his book (see the comments here for instance), I'd be remiss if I didn't mention that even after discussing the cover of the book with the author, I still remain critical of its design on several fronts. Likewise, from a stylistic perspective, in as much as it makes it an enjoyable read (as opposed to setting an intellectual and intense mood throughout the work) I was initially confused as to how the book was written. The reader is forced to discover that the author apparently elected to write narratives of different people (there is no indication as to if they are fictional or not) and relate their story as to what makes them happy or inspired to simply be Jewish. In future printings, I believe that there should be some sort of explanation or preface so as to not leave the reader initially baffled.
Why be Jewish may never win any literary awards or be featured on the New York Times Bestseller List.  That said, I am confident that Why be Jewish is a book that a scholar or a layperson or a colleague or a student will enjoy—a sure sign of success. I would go so far as to say that  I would recommend that this book be required reading not simply to an NCSY or JSU teenager looking into Judaism but to every Yeshiva High School student on up—and certainly to anyone looking for Jewish inspiration.  Why be Jewish makes a good choice as a gift, especially as it is written without preference to any stream of Judaism.
Disclosure: I received a complimentary review copy of Why be Jewish, from the publisher, Mosaica Press.
Jews all across the world are busily preparing for the joyous holiday of Sukkos. In addition to dwelling in a Sukkah we are commanded to shake the Arba Minim. And so, when it comes to the selecting and purchasing of the Arba Minim, there are laymen to scholars who spend countless hours—let alone days—searching for the most beautiful objects that comprise the Arba Minim (the Esrog, Lulav, Hadasim and Aravos).
When it comes to putting ones Hadasim and Aravos together with the Lulav, there are various traditions that have been preserved for hundreds of years. The common practice for many Sephardim and some Chassidim is to simply wrap their Hadasim and Aravos directly to the Lulav. However, the Minhag that I practice is to place the Hadasim and Aravos in a 3-branched holder that is woven from frond slats and then dried. This device is commonly referred to as a: Koishekle. That said, this device may create serious Halachic problems.
Why?
One has to be extremely careful when placing the Hadasim and Aravos into the small holes of the Koishekle. As an aside, being that these Koishekle are at times made by children who are unaware of the minute halachic nuances, the holes are very small. As such, when one places there Hadasim and Aravos into the Koishekle—the leaves are invariably going to tear and break—thus perhaps nullifying or at the very least altering the Mehudar status of the Hadasim (Aravos there is room to be a bit more lenient).
Additionally, each day after using the Arba Minim, many people commonly remove the Hadasim and Aravos and place them in the refrigerator to make sure that they remain fresh throughout the week long holiday. Sadly, one is setting themselves up for a scenario in which they may further damage their Hadasim and Aravos. After all, each day more and more leaves will invariably fall off. Indeed, if one does use the refrigerator to keep these items fresh, I always recommend that they simply place the entire Koishekle as 1 unit into the refrigerator. In so doing, no Hadasim or Aravos will be "injured" in the process!
However, there is a second solution. One can order or make their own Koishekle with wide holes. It follows that one can easily slip their Hadasim and Aravos in (and out as well) and no/to minimal leaves will fall off in the process. And so, if you have the Minhag to use a Koishekle, I encourage you to be aware of the above points and wish you a Chag Kosher V'Sameach!
I received the following from Rabbi Eisenmann, and thought that I'd pass it along.
Please note: All of the quotes are from today's New York Times.
"Steven P. Jobs, the visionary co-founder of Apple who helped usher in the era of personal computers and then led a cultural transformation in the way music, movies and mobile communications were experienced in the digital age, died Wednesday. He was 56."
Time running and so are people! One of Steve Jobs greatest accomplishments in life was to allow people to move faster and quicker through life.
Therefore, for the sake of brevity- I present an 'iHesped' on Mr. Steve Jobs
At the time of his death he was 56 years old and worth an estimated $8.3 billion.
Lesson number one is: you can be worth 'billions and billions.' However, when Hashem says it is time to go…it is time. Therefore, 'estimated worth' will not give you life. Remember: It is 'Teshuva, Tefillah, and Tzedokah' that can take away the evil decree.
Steve Jobs led a cultural transformation in the way music, movies and mobile communications were experienced in the digital age.
Who has never used an 'iPhone, iPod or any other Apple product? Lesson number two: One man who started in 1976 in a suburban California garage changed the way the entire world listens to music and talks on the phone. Imagine what you can accomplish in your life?
"He was the most passionate leader one could hope for, a motivating force without parallel," wrote Steven Levy, author of the 1994 book "Insanely Great," which chronicles the creation of the Mac."
Lesson number three- Be passionate in your service to Hashem and His mitzvohs! You can be a motivational force to impact and help change others!
There are more lessons to be learned, however, these are my three lessons to be gleaned from the demise of Mr. Jobs and they are my "iHesped" to him.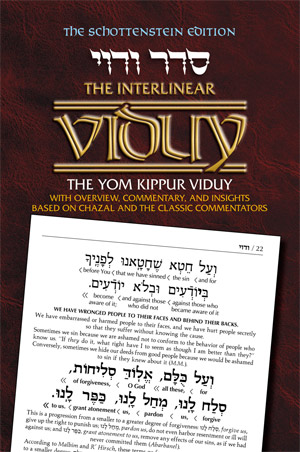 When saying Vidui, there is a special merit to be as detailed as possible (see, for example, Rambam, Teshuva 1:1). It follows that there is a proliferation of popular Seforim that are purchased such as Pathway to Prayer that help enhance ones personal Shemonie Esrei—let alone Vidui! In our contemporary times, Rav Moshe Shternbuch shlit"a rewrote the Vidui in a simplified and "immediately accessible" form that will help us relate, and by extension, enhance our Vidui experience. Nonetheless, the verbiage of the Vidui remains male-centric (transgressions with women, wasting time when studying Torah etc.). As such, for years I have had seminary students ask me if there was anything that they could use to enhance their Vidui and make it just a bit more personal. They were looking for a text that would meaningfully speak to them.
Enter the following text entitled: Vidui for Women!
I'm pleased to share the following PDF that I received from Rabbi Menachem Nissel, author of Rigshei Lev. With the consent and guidance of Rav Shternbuch, he painstakingly wrote this Vidui for Women pamphlet. He has designed it so that it can be printed on two sides of one A4 paper. It should then be folded along the columns concertina style for easy use.
Gmar Chasima Tova!