Tag Archive: iPhone
I received the following from Rabbi Eisenmann, and thought that I'd pass it along.
Please note: All of the quotes are from today's New York Times.
"Steven P. Jobs, the visionary co-founder of Apple who helped usher in the era of personal computers and then led a cultural transformation in the way music, movies and mobile communications were experienced in the digital age, died Wednesday. He was 56."
Time running and so are people! One of Steve Jobs greatest accomplishments in life was to allow people to move faster and quicker through life.
Therefore, for the sake of brevity- I present an 'iHesped' on Mr. Steve Jobs
At the time of his death he was 56 years old and worth an estimated $8.3 billion.
Lesson number one is: you can be worth 'billions and billions.' However, when Hashem says it is time to go…it is time. Therefore, 'estimated worth' will not give you life. Remember: It is 'Teshuva, Tefillah, and Tzedokah' that can take away the evil decree.
Steve Jobs led a cultural transformation in the way music, movies and mobile communications were experienced in the digital age.
Who has never used an 'iPhone, iPod or any other Apple product? Lesson number two: One man who started in 1976 in a suburban California garage changed the way the entire world listens to music and talks on the phone. Imagine what you can accomplish in your life?
"He was the most passionate leader one could hope for, a motivating force without parallel," wrote Steven Levy, author of the 1994 book "Insanely Great," which chronicles the creation of the Mac."
Lesson number three- Be passionate in your service to Hashem and His mitzvohs! You can be a motivational force to impact and help change others!
There are more lessons to be learned, however, these are my three lessons to be gleaned from the demise of Mr. Jobs and they are my "iHesped" to him.
This Tzom Gedalia (September 2nd) join me and thousands of Jews around the world! I will be participating in the DaytoDisconnect Event which will allow people the opportunity to truly introspect how much technology is influencing their life!
After all, stop and think for five seconds…Is there a moment in your life in which your smartphone is ever OFF? Do you sleep with your phone at your side? When you are at a Shuir or at a Minyan…if your phone isn't on OFF, is your phone at least on Vibrate or better yet Silent? Do you say Modeh Ani before checking your Facebook Wall or the Facebook Status of others?
We all know that we can improve our focus in our Bein Adam L'Chavero, and by extension, our Bein Adam L'Makom during the High Holiday season, and this is a lovely important cause that will allow us all to disconnect to connect! Enjoy these incredibly powerful and entertaining short promotional videos and click here to register for your hour to disconnect/connect so they can reach their goal of 1 million disconnected/connected hours.
In today's day and age it seems like people use a screen to not simply get their work done. Rather, we use smartphones or computer monitors to "zone out" or "chill." Doing so is certainly important—but it should be done in moderation. Unfortunately, we all know people who are consumed with updating their Facebook status or playing Angry Birds to the extent that they don't learn or consume their time with all the wonderful things that life offers us. Indeed, if one took a moment to contemplate the greater things in life, a person may  realize that from the advanced technological world in which we live in, we can further see the wondrousness of Hashem.
Recently, the media (see here) has been up in arms about the fact that Apple and Google are intensifying privacy concerns by tracking where and when people use their mobile phones. However, while this concern is real and genuine (and I encourage everyone to at least follow this easy step to secure their information on their iPhone) we need to heed the words of Dr. Pentland, director of MIT's Human Dynamics Laboratory, who helped pioneer research in this field. Pentland hit the nail on the head when he noted that, "people can get this god's-eye view of human behavior."
Here is the director of MIT's Human Dynamics Laboratory admitting that this allows us to appreciate an insight into Hashem's view of human behavior. As a child we are all told that Hashem is watching over us at all times and knows our very movements, thoughts, and actions (also see my earlier blog post on this topic Google and God). In contemporary times, I believe that Hashem is using technology to show us his greatness. For instance, through the invention of the telephone we witnessed that it is possible for one to talk to another person across continents; and from the smartphone we now see that it's possible to know the thoughts, health and location of millions of individuals.
And so, we must realize that if companies are accessing this information, the Almighty sure can!!
Our task is to use this technologically advanced world that we live in as an impetus not for spiritual decline—but growth.
The next time we are yapping on our smartphone and are about to  speak about or watch something unbecoming for a Jew, we should remember that it's not just Fortune 500 companies who will forever have this information on us—but the ultimate Creator as well!
For more on this topic, I encourage all to listen to Rav Mordechai Willig's shuir titled, Privacy and Shared Information: The Torah Perspective.
Throughout the world, young and old alike enjoy the festive bonfires of Lag B'Omer and the delicious cheesecake of Shavuot. That said, we need to perform the act of Sefiras HaOmer, counting the Omer (all the way from the holiday of Passover to Shavuot), to reach these dates. And yet, understanding the mechanics and spiritual significance of this 49 day period is an ominous task.
Enter the new iPhone App called Sefiros!
This App is based on the bestselling book Sefiros, from the acclaimed author and community leader Rabbi Yaacov Haber. As an aside, I was privileged to briefly meet Rabbi Haber in person at last year's Kishor Social Media Conference where we both lectured. From his remarks it was clear to all, that he is both a revered scholar—as well as someone who is keenly aware of and in use of the technological tools that we are afforded in 2011.  Hence, it is only fitting that he created an App that does more than simply helps one count the Omer. In fact, Sefiros seems to continue where the book left of in that it provides daily Kabbalistic insights as well as alerts that allow the user to discover and implement the unique spirituality found in each day of the Omer!
I've  tested this App the past couple of days and found that from design to content the Sefiros App really shines!
Unfortunately, there are some Apps out there in which the user experience is outright sloppy. I'm pleased to report that the Sefiros App is beautifully designed and is easy to use. Plus, it features a useful reminder to count the Omer complete with the text of the proper blessing. It even automatically adjusts to your timezone and location. This function is useful for anyone who may find themselves traveling on business or the like but still doesn't want to get confused with what day of the Omer to count. What's more, in line with today's web 2.0 world that we live in, the App will allow one to share on Facebook and Twitter!
Best of all, the Grow version of this App, allows one to truly actualize this special time period. One can set various alerts that will remind a person to perform or be conscious of actions with G-d, their spouse or even to work on a character trait.  In so doing, despite the busy world that we live in, one can have an App to help them not only with their physical health (such as LoseIt)  but with their spiritual wellbeing as well!
If you are looking for some meaning after Passover or simply want to finally understand the Omer, I recommend you download the Sefiros App.
I've enjoyed the ability to pull out my iPhone 4 and snap cute moments of my kids or an interesting scene as I'm out and about walking the holy streets of Jerusalem. That said, while there's seemingly so many iPhone Apps out there that they are becoming hard to find (see this article by Hillel Fuld illustrating this point) the soon to launch iPhone App Lifelapse caught my eye. You see, I don't view it as simply another iPhone App. Rather, I consider it a Mussar App. The reason for this is because while we all know that Hashem is watching and recording our actions, with the hectic daily schedules we lead it is hard to remember that we still must account for our every move and decision. Ultimately, we will have to account for  all of our interpersonal relationships. From the  the person we greet in the street to our loved ones at home…we must perform with proper Middos.
Enter: Lifelapse.
This App reminds us that every moment in our life counts and is recorded. And so, while I'm not encouraging you to buy or even try it (quite frankly I can't see myself doing either of those two things
….), the fact that such an App will be available for the consumer, can serve as a perfect contemporary reminder to think before we simply respond to something with a knee-jerk reaction or a crude flippant remark.
As a person who travels for a total of well over a month each year, being able to access Seforim or other types of Jewish content while on an airplane or simply waiting in a terminal, is of vital importance. After all, I am a practicing Rabbi, who upon landing in a particular city, has been called upon to speak at functions ranging from an Engagement Party to a Brit Milah! And so, when the folks at Davka, provided me with the Totally Tanach iPad Application and asked me to test and review it, I was intrigued with the offer and agreed to download their latest iPad App. Overall, I found the Hebrew, English, and Rashi, text(s) to be beautifully crisp and clear. Frankly, the screenshot images of the Totally Tanach iPad App that appear here, do not do it justice! Moreover, I found the User Experience aspect of this Jewish App to be of the highest quality. Unfortunately, I have come across some Jewish related Apps that are not created in the highest of standards. In all honesty, as we are viewed as The People of The Book, I believe it behooves us to have digital content that further expresses our pride in contemporary times…and a great way to continue this legacy is by designing Apps with high esteem for the User. That said, when switching between simply the Hebrew text of the Tanach and the option to also view the commentary of Rashi, it does not always lead you to the precise verse in which one was learning. Additionally, I'd like to see in the next UPDATE of this App the ability to Highlight text and save your Highlights as well as add Notes to a particular verse.
All things considered, the one UPDATE that will make the Totally Tanach iPad App a "must have" for anyone from the layperson to scholar, is adding the commentary of Targum Onkelos.
As we all know there is an obligation to study Shnayim Mikrah V'Echad Targum each week (for a great class on this topic, check out this lecture from Rabbi Reuven Boshnack, JLIC Educator at Tanger Brooklyn College Hillel). It's impossible for one to accomplish the seemingly basic weekly feat of Shnayim Mikrah V'Echad Targum without the Targum, the translation, of Targum Onkelos. Being that we are typically not carrying around a Chumash, let alone a Tanach 24/7, if the Totally Tanach iPad App came complete with Targum Onkelos, at least for the five books of the Torah, it would make this App really stand out in the increasingly growing crowd of Jewish iPhone and iPad Apps available to the consumer. Likewise, it would make it that make fulfilling Shnayim Mikrah V'Echad Targum that much more doable! All in all, I enjoy using this App and look forward to continuing to see high quality content Apps from Davka!
Rav Shimshon Pincus zt"l, was a legendary and prolific Rabbi. Unfortunately his life was cut short due to a tragic car accident. In one of his many Seforim that were published posthumously, he cites the opinion of the Zohar, who believed hundreds of years ago, that in today's day an age we would see a lot of "wisdom" being introduced into the world. To that end, Rabbi Pincus says (see the Hebrew to the right) that he doesn't know if the intent of the Zohar was in reference to the technological revolution that we see in front of our eyes (frankly if one buys a new computer,  within a year or so, your model can become seemingly obsolete!). Nonetheless, he states that you can't ignore the reality of how much "wisdom" and invention has appeared in such a short period of time.
Nowadays, Apple, headed by Steve Jobs, is even greater than Microsoft (see here) when it comes inventions.The company is known for many innovative items that have and continue to influence our society (see here). Their latest product, the iPad, is taking the world by storm! Any person in the tech-industry will tell you that one of the greatest aspects to the success of both the iPhone and the iPad is the Apps (see here). These Apps, short for Applications, allow the device to function in many different ways. The Apps are typically developed by a third-party developer or company and are available for download. One particular App caught my eye…
You see, according to our Sages (Talmud Chagigah, 12a; Bereishis Rabbah 41:3), Adam had the ability to see from one end of the world to the other! When he sinned, he, along with his descendants, lost this unique power.
Many years later, thanks to Brian Meehan, the co-founder of the App, Knocking Live Video, society can now come one step closer to an "Adamesque Experience!" Mr. Meehan is known as the one who convinced Steve Jobs to approve streaming video Apps. In so doing, we can all use this technology to see from one end of the world to the other!
Now here comes the tough part! There's a lot of "wisdom" out there. It can be used for good (see here) or it can be corrupted for improper or immodest intentions. As we live in a time that we have access to such wisdom, and by extenion, are able to even taste somewhat of an Edenic reality, it behooves us to use our Apps responsibly. May the Almighty give us the strength to utilize these tools to only move in a positive direction!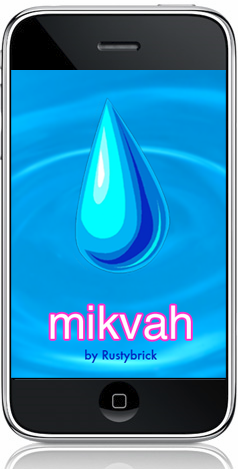 The title of this post sounds like a funny joke right?
I'm sure you're all thinking to yourself, "where's the punch line Rabbi?"
Truth be told, as I look at the title of this post I myself am still wondering what is a modern gadget doing in the same sentence with a mikvah, a word that connotes ancient tradition and holiness?
Well, welcome to the 21st Century Folks!
As you know, I've written about Jewish iPhone Apps before (see here).  But the recently released Mikvah iPhone App that aides couples with following the Jewish Laws of Family Purity, at first had me scratching my head…
I honestly wasn't sure what to make of it.
However, after some thought and discussion with colleagues of mine, I came to the conclusion that if this new app can help even one couple keep the mitzvah of Taharas HaMishpacha (family purity) then the creators of this app will certainly have partaken in a great mitzvah.
Let's be honest! To more people then you can imagine, keeping the mitzvot can be challenging and at times confusing. And yet, while there are a multitude of English books on this particular subject, one can still walk away dazed and confused. Sadly, I know of too many couples who just feel soo frustrated that they'll give up, and no longer try to understand the procedure, or let alone consult a Rabbi!
However, this new iPhone App really simplifies the entire process. What's more, it is clean and clear and the usability of the Mikvah iPhone App may very well even encourage couples to take upon this once confusing and challenging mitzvah!
What do you think? Does this help or hinder the mitzvah?