Tag Archive: ramat eshkol
There is a worldwide initiative that is close to my heart and that I believe is worthy enough to bring to your attention. As such, my wife  will be joining Jewish mothers the world over in lighting Shabbos candles 5 minutes earlier this Friday night (Parshas Zachor/March 2nd 2012).
This dramatic appeal to all Jewish women around the world is meant to to help focus our thoughts on the terrible events that took place now over 2+ years ago–and daven for the speedy refuah of a friend and hero who remains in a coma. On Rosh Chodesh Av, just over 2 years ago Menashe Chaim Ben Shulamit Tufcha jumped into the sewage drain in the Ramat Eshkol park that is known to all as "The Iglu Park." My children as well as hundreds of other local kids have enjoyed playing at this park. Sadly, a cute three and a half year old Racheli Sofer went to this park and never returned home to her loving family.  You see, Menashe Chaim Ben Shulamit Tufcha didn't know who she was, but that didn't stop him from jumping down into a pit that Racheli had fallen into while playing in the park.
Unfortunately Racheli lost her life and Menashe has been in a coma ever since! His wife and 5 young children have been struggling effectively without a husband and father for 2.5 years. For more on this story see here and here.
This Shabbos, Parshas Zachor (the Shabbos before Purim), women worldwide are lighting their Shabbos candles 5 minutes early in the memory of Rachel Bas HaRav Binyomin Yosef and as a merit for a full recovery for Menashe Chaim ben Shulamit Tufcha, b'ezras Hashem. Use the extra time to learn, talk to your kids, say Tehilim or just think. Let this year be a Purim Sameach for everyone!
Click here and here for more video and the story in Hebrew (and some English)
As illustrated in my Twitter Update here, I love Sukkos! Truth be told, the best place to celebrate this holiday is in the holy city of Yerushalayim. The weather is great this time of year, a spirit of excitment and Kedusha permeates the air, kids are off school, people are visiting from countries ranging from America to Argentina, the concerts are eclectic as well as legendary, and I could just go on and on…if you've never been here before for Sukkos, you've gotta come and book your ticket for next Sukkos!
Thankfully, we have been doing a lot of walking around the city over the past couple of days. Indeed, we've walked from Ramat Eshkol to Shaarie Chessed on more than one occasion. Here is a map of the route that we took:
View Larger Map
Walking has enabled us to not only exercise (Sukkos, like many Jewish holidays, requires one to eat many festive meals, and if you don't exercise a bit, you may find yourself putting on a couple of unwanted pounds
) but it has also allowed us to enjoy the many beautiful and diverse neighborhoods of Jerusalem. As such, we have been privileged to see many festively decorated Sukkah's. Accordingly, I'd be remiss if I didn't share with you the coolest/most original looking Sukkah that we came across. We found it in the Nachlaot area of Yerushalayim. My kids (you can hear my son Eliezer in the background of the video below) have aptly called this Sukkah, "The Windmill Sukkah." Enjoy the short video below…and Chag Sameach!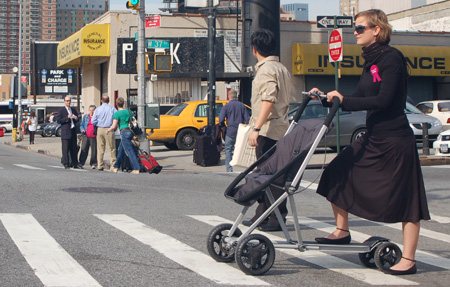 In my neighborhood of Ramat Eshkol and all across Jerusalem for that matter, strollers are like cars. For instance, if you want to go to the grocery store and bring some bags back what is the preferred method of transportation? Well it seems that the most cost effective and efficient method of shlepping your items home is to take your stroller. Plus, if you take your double stroller and only have one child with you, a person then has room to stash more bags in the second seat.
Indeed, being that this is a very transitive community filled with people who will in a short term return to North America, a lot of the strollers used by young couples here are imported/brought with them from America. From Bugaboo's to Phil and Ted's you name the brand, style, and make, and I'm certain that I have seen the model you are referring to in the past couple of days. What's more, despite the fact that these strollers that roll the streets can cost upwards of a thousand dollars (yes you read correctly!), people adorn them with seat accessories, hoods for additional shade for the passenger and so on and so forth all in an effort to personalize the look of their  car stroller!
That said, I have yet to see the stroller designed by Valentin Vodev. The Roller Buggy is a multi-functional baby stroller that will really help a father drop off his kids of at a babysitter or a local Gan and still get to Kollel on time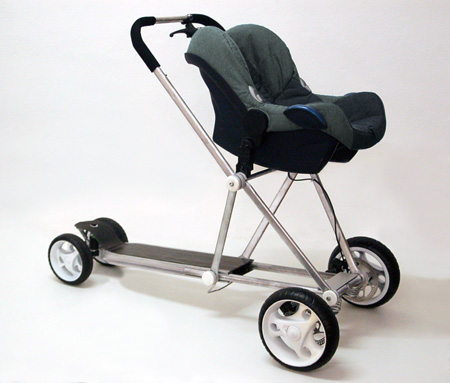 What's so unique about this stroller?
It transforms into a scooter with a simple pull of the lower body and even has a specially-made hydraulic brake system with two disk brakes that enable speed reduction at any time thus still looking out for the child's safety. There is also a safety belt on the child's seat.
I encourage you to check out the video below and if you are in the market to splurge on a stroller, be the first one in Ramat Eshkol to have this one
I remember when Pink Dot first appeared in Los Angeles.
I remember when the first Online Kosher Grocery Store arrived in L.A. It even featured timely home delivery.
I never thought I'd live to see the day that this concept arrived in Jerusalem.
Let alone right in my backyard!
Then again in the past couple of years, Ramat Eshkol seems to offer an ever growing amount of American amenities. Just a couple days ago I received the following via email:
New in Ramat Eshkol! Internet shopping from Eshkolet and Peirot Hatzomet on Bar Ilan. Prices are the same as in the store and the service is even better! American customer service, hassle free.

Check us out at MyMakolet.com.

The site is still being perfected, but we wanted to enable our community to benefit from this service before Pesach as we all know shopping gets quite hectic around Yom Yov time.
Frankly, while I don't assume every family has 20NIS to throw around on a daily basis, I do think that the concept is certainly a good idea that will take off on this area. Let's be honest. The average person living in Jerusalem does not own a car. To that end, I can see MyMakolet.com being a great asset to a pregnant mother who simply can't walk around in the summer heat, or to another mother who would prefer to shop without kids pulling items off of shelves, and so on and so forth.
I wish MyMakolet.com much success and who knows maybe we'll end up giving their service a test drive one of these days!
As many of my faithful readers know, we live in the Jerusalem neighborhood of Ramat Eshkol. Indeed, while we have not lived in this area for several decades like some of the original Anglo-Saxon Olim who established the Beit Yaakov Synagogue founded by the late Rabbi Dolgin, we still have seen it change, and drastically at that.
Case in point:
I remember when there weren't any Sukkah Porches on the buildings.
I remember when the only Mehadrin restaurant on Paran was Nina's.
I remember when there weren't yeshivas and minyanim on Ramat HaGolan!
Anyways, the list can continue, but on to the song below which is a funny spoof on how Ramat Eshkol is nowadays…
And so, out of all the months to share some humor, there isn't a better one then the month of Adar!