Rabbi Michael Green's Blog
I have had the pleasure of hearing Doron Kornbluth, author of  the newly released book, Why be Jewish speak on several continents. Be it to seminary students in Jerusalem or a room comprised of mostly unaffiliated Persian Jews in Beverly Hills, I've always been impressed by his ability to not just captivate and inspire the audience—but to engage and empower them with something to think about as they walk home or drive off into the evening. Arguably most recognized for being the best-selling author of, Why be Jewish, Doron chose to tackle an even more fundamental question in his latest release.
Truth be told, this question is one that I presume any good Jew ponders at least once or twice throughout their lifetime!
Jews all across the world are busily preparing for the joyous holiday of Sukkos. In addition to dwelling in a Sukkah we are commanded to shake the Arba Minim. And so, when it comes to the selecting and purchasing of the Arba Minim, there are laymen to scholars who spend countless hours—let alone days—searching for the most beautiful objects that comprise the Arba Minim (the Esrog, Lulav, Hadasim and Aravos).
When it comes to putting ones Hadasim and Aravos together with the Lulav, there are various traditions that have been preserved for hundreds of years. The common practice for many Sephardim and some Chassidim is to simply wrap their Hadasim and Aravos directly to the Lulav. However, the Minhag that I practice is to place the Hadasim and Aravos in a 3-branched holder that is woven from frond slats and then dried. This device is commonly referred to as a: Koishekle. That said, this device may create serious Halachic problems.
I received the following from Rabbi Eisenmann, and thought that I'd pass it along.
Please note: All of the quotes are from today's New York Times.
"Steven P. Jobs, the visionary co-founder of Apple who helped usher in the era of personal computers and then led a cultural transformation in the way music, movies and mobile communications were experienced in the digital age, died Wednesday. He was 56."
Time running and so are people! One of Steve Jobs greatest accomplishments in life was to allow people to move faster and quicker through life.
Therefore, for the sake of brevity- I present an 'iHesped' on Mr. Steve Jobs
At the time of his death he was 56 years old and worth an estimated $8.3 billion.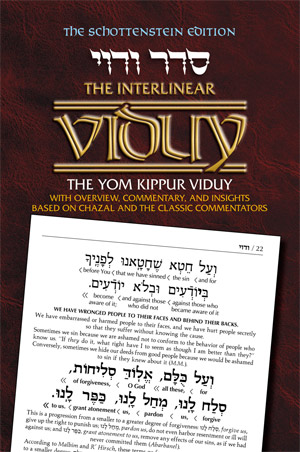 When saying Vidui, there is a special merit to be as detailed as possible (see, for example, Rambam, Teshuva 1:1). It follows that there is a proliferation of popular Seforim that are purchased such as Pathway to Prayer that help enhance ones personal Shemonie Esrei—let alone Vidui! In our contemporary times, Rav Moshe Shternbuch shlit"a rewrote the Vidui in a simplified and "immediately accessible" form that will help us relate, and by extension, enhance our Vidui experience. Nonetheless, the verbiage of the Vidui remains male-centric (transgressions with women, wasting time when studying Torah etc.). As such, for years I have had seminary students ask me if there was anything that they could use to enhance their Vidui and make it just a bit more personal. They were looking for a text that would meaningfully speak to them.
This Tzom Gedalia (September 2nd) join me and thousands of Jews around the world! I will be participating in the DaytoDisconnect Event which will allow people the opportunity to truly introspect how much technology is influencing their life!
After all, stop and think for five seconds…Is there a moment in your life in which your smartphone is ever OFF? Do you sleep with your phone at your side? When you are at a Shuir or at a Minyan…if your phone isn't on OFF, is your phone at least on Vibrate or better yet Silent? Do you say Modeh Ani before checking your Facebook Wall or the Facebook Status of others?
We all know that we can improve our focus in our Bein Adam L'Chavero, and by extension, our Bein Adam L'Makom during the High Holiday season, and this is a lovely important cause that will allow us all to disconnect to connect! Enjoy these incredibly powerful and entertaining short promotional videos and click here to register for your hour to disconnect/connect so they can reach their goal of 1 million disconnected/connected hours.
Educators and Parents around the world have all been discussing how we can make Torah—and Jewish Education for that matter—relevant to our students. After all, it is increasingly challenging to present the timeless treasure that is a Torah lifestyle to kids who are being raised with distractions ranging from an iPad to a Nintendo Wii game. To that end, I'm always into testing new technology to see how it can be used to make Torah relevant. I believe that the good folks at TorahLive are on to something! In addition to their live presentations that they have made on several continents, I recently got a chance to review their very first DVD entitled, "Mezuzah: The Ultimate Connector." This DVD does not disappoint. It is a highly professional DVD and is replete with information that can be enjoyed by young and old and by the scholar to the layperson!
A little over a month ago I wrote about a reported meeting between Chief Rabbi Lau and Lakers legend, Kareem Abdul-Jabbar. This post went viral and was even cited in this article on ESPN.com. I have received emails from many readers around the globe who have responded to this story. One reader in particular shared the following story with me and was even so kind as to photocopy the following story that appears in a sefer entitled Birkas Abba Yaakov. This sefer was released in tribute to Rabbi Abba Yaakov Liff zt"l and shares many stories and vignettes about his life and passion for all things Torah. While he passed away now over 23 years ago, he will forever be remembered as one of the original students of Ner Israel Rabbinical College as well as the name behind the Yeshiva known as: Ner Yaakov.
On page 50 footnote 37 Birkas Abba Yaakov documents that the Rabbi was ill for several years before succumbing to his illness. On one occasion, the Rabbi had to fly to Cleveland to have an operation. And so, he took not one but two cases of seforim which were with him the entire stay. On his return flight back to Baltimore, passengers were up in arms that there was a famous basketball star on the airplane by the name of none other than Kareem Abdul-Jabaar!